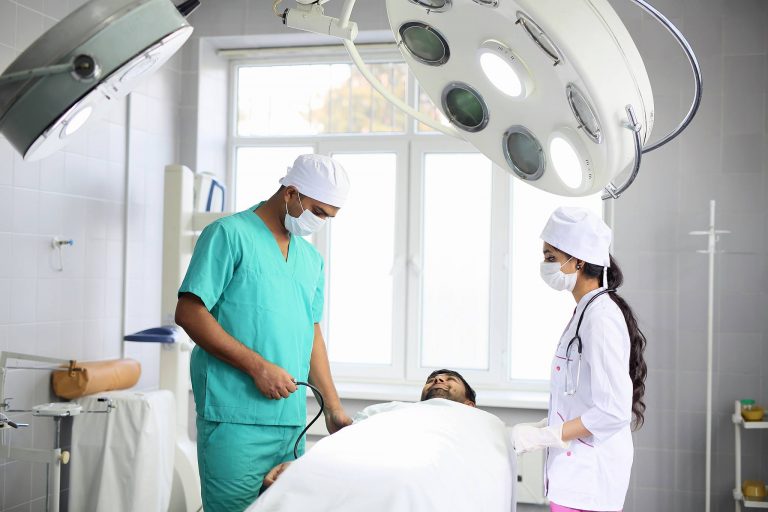 The Simulation Medical Center (SMC)
The Simulation Medical Center (SMC) of the International School Of Medicine is an independent structural unit of the university where educational and practical activities are carried out by the obligations of the state educational standard of medical education of the Kyrgyz Republic.
The SMC was founded by the decision of the International School Of Medicine Academic Council (Minutes of the meeting dated 12.01.2018). The purpose of the Simulation Center has been to improve the quality of professional training of students (and residents), to develop and enhance special medical skills and skills based on the use of advanced simulation practice tools and virtual (computer) simulators that form the reality of the clinical situation.
The main tasks of the Simulation Medicine Center (SMC) are:
– Alliance in the educational process of innovative high-tech training modules (simulation phantoms, virtual simulators, simulators/simulation training tools), as well as practice-oriented simulative training methods;
– organization and ensuring of a high level of practical professional abilities mastering and development on phantoms, simulators/simulation training tools by the approved program of specializations of higher and postgraduate vocational education;
– Improvement of practical training quality for International School Of Medicine students, the training of professionally competent specialists able and ready to apply his/her knowledge and practical skills in a critical situation;
– control of efficiency, quality of formation and improvement of practical professional competence based on performing situational tasks and conducting practical examinations;
– study and implementation of the most excellent practices of medical schools to advance the quality of teaching practical professional skills.
– the organization and implementation at the general level of educational and research-based regular work aimed at developing the properly regulated professional knowledge and skills in students following the educational patterns of higher vocational medical education.